Buzzards Bay - Barnstable, MA Fishing Report
Pushlished On: February 16, 2023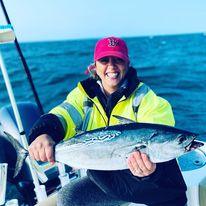 Buzzards Bay - Barnstable, MA Fishing Report
Pushlished On: February 16, 2023
Wishing We Were Fishing Cape Cod!
Buzzards Bay - Barnstable, MA
We are eagerly awaiting the start of 2023 fishing season. Here's a few throwback pictures form our charters of 2022. Man, what a great time we had last year, and this year is predicted to be a fantastic fishing season! Cape Cod Charter fishing dates are up, book today for the best fishing in Massachusetts! We follow the fish, so get ready for an action-packed day off the Cape with Cape Cod Charter Guys!
Weather data
Forecast
Weather at 12:00 am
Cape Cod Charter Guys Available Trips